Don Henry's Falloween Fallies
October 26 @ 6:00pm - 10:00pm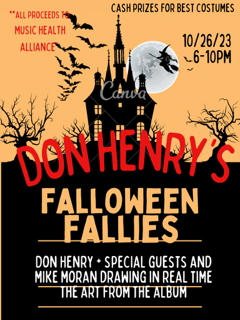 A first class Halloween party featuring Grammy Award winner Don Henry and "special guests" performing music from his one-of-a-kind album, "Falloween", and other Halloween classics.
Award-winning illustrator and Falloween album cover artist Mike Moran will be drawing along with each song in real time to add to the fun!
There will be raffle prizes and cash prizes for the best Halloween costumes too! All proceeds benefit Music Health Alliance's #HealTheMusic campaign.
-->