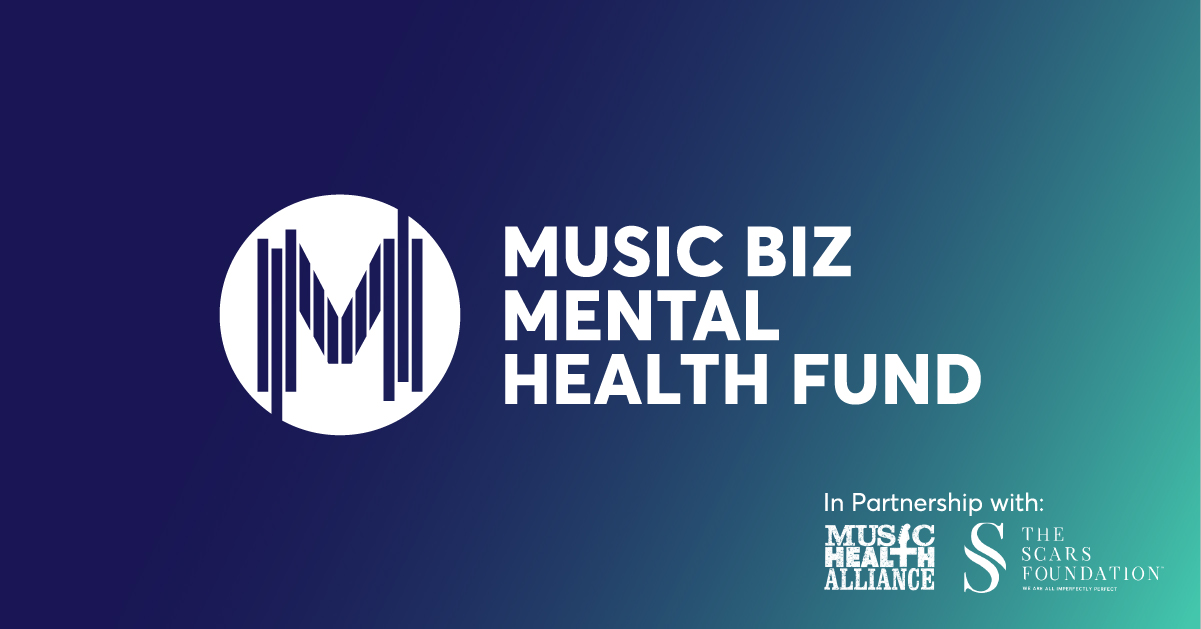 MUSIC BIZ MENTAL HEALTH FUND
The Music Biz Mental Health Fund was created to help provide struggling Association members with essential mental health services.
The Music Business Mental Health Fund was established in 2021 by the Music Business Association  in partnership with Music Health Alliance and the Scars Foundation  to provide access to mental health services including counseling, therapy and screenings for Music Biz Association members impacted by the COVID-19 pandemic.  SPECIAL NOTE:  If you have a life-threatening mental health request please call 911 or call 1-800-273-8255 for immediate assistance.
Qualifications & Application:
Qualified applicants must be ONE of the following:
Qualified applicants must have an annual household adjusted gross income of $40,000 or below projected for 2021 or 300% or below the Federal Poverty Level based on your family size.
Qualified candidates please complete this APPLICATION.  Upon receipt a Music Health Alliance advocate will be back in touch within 24 hours.  For questions or more information please call Music Health Alliance 615-200-6896 or email info@musichealthalliance.com.
Additional Information:
If you have a non-emergent mental health need and are not sure how or where to start, Music Health Alliance can assist you with recommendations.  Our advocates are here to meet you where you are in this process.
All applications are 100% confidential and bound by HIPAA privacy guidelines.
Grants of up to $500 per individual will be paid directly to the service provider, clinic or facility.
If the need exceeds the grant allocation, Music Health Alliance can connect the grant recipient with additional grant resource options.
If you are a music industry professional with a mental health need and you DO NOT qualify for the Music Biz Mental Health Fund, please call 615-200-6896 or email info@musichealthalliance.com for alternative resource availability.  
---
About the Music Business Association:  The Music Business Association (Music Biz) is a not-for-profit membership organization that advances, promotes and invests in the future of the music business by providing a trusted forum where ideas and cooperation flourish. Through events, education and engagement, the Association brings together the full breadth of the industry for unparalleled access to networking, resources and thought leadership.
About the Scars Foundation:  Founded by Godsmack frontman and guitarist Sully Erna, the Scars Foundation was established to raise awareness of mental health issues associated with abuse, bullying, addiction, suicide and beyond. The organization also offers resources to help ease the burdens of those who struggle with such issues.
About Music Health Alliance:  Based in Nashville, Music Health Alliance has provided free healthcare advocacy and support to more than 13,000 music industry members in 48 states across the U.S. and saved the music community more than $63,000,000 nationwide by providing advocacy and access to lifesaving transplants, medicine, mental health resources, end of life care and many other necessary services. In response to the pandemic, Music Health Alliance's COVID-19 Relief Plan was created to provide direct support for the immediate needs of music industry professionals and their families during this public health crisis through relief grants, simplified solutions and a comprehensive database of resources. MHA fights so those in our industry never have to feel alone in a health crisis and removes obstacles so patients can receive lifesaving care. Its services are free to any person who has worked in the music industry for three or more years or who has credited contributions to 4 commercially released recordings or videos. Spouses, partners, and children of qualifying individuals may also receive access to the non-profit's services from birth to end of life. Entirely funded through grants and individual and corporate donations, financial support from the music community is critical to continue Music Health Alliance's (MHA) advocacy and free services. For every $1 donation, MHA is able to provide $30 in life-saving healthcare resources to Heal The Music.
-->