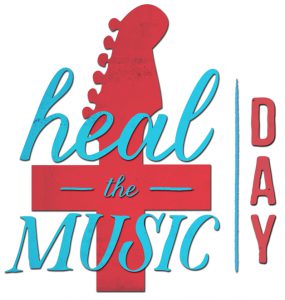 Countdown To GIVE:
-218
Days
-22
Hours
-46
Minutes
-50
Seconds
What is Heal the Music Day?
Heal The Music Day is an effort to raise awareness and support for the more than 56,000 Nashvillians who make a living in the music industry, 76% of whom are self-employed or part of small business without access to group health benefits – including songwriters, producers, audio engineers, musicians, recording artists, publishers and more benefitting Music Health Alliance.
Who Has Already Committed?
In our second year of pledges, a multitude of performing Artists and local businesses have committed to donate a percentage of their revenue to support their fellow musicians and peers in the industry in times of medical crisis including David Adams, Alabama Shakes Touring, Average Joe's Entertainment, Jay Barron, Marc Beeson, Richard Bennett, Sam Bush, Blue Bird Cafe, Scott Robinson (Dualtone Records), Jill Brown, Luke Bryan, Dr. Charles Campbell, Jackie Campbell, John Carter Cash, Rosanne Cash, Beth Nielson Chapman, Andrew Combs, Jamie Cheek/FBMM, Elizabeth Cook, Roger Cook, Country Music Association, Rodney Crowell, Dierks Bentley, Dolan Family Foundation, Ronnie Dunn, Tommy Emmanuel, First Tennessee Bank, FS Wealth Sports & Entertainment, Joe & Phran Galante, Vince Gill, Emmylou Harris, Girlilla Marketing/Jennie Smythe, Kevin Griffin (Better Than Ezra), Don Henry, I'm With Her (Sara Watkins, Sarah Jarosz & Aoife O'Donovan), James Pennebaker, Jay & Katherine Williams, Jewel, Alicia Jones, Kid Rock, Miranda Lambert, Brenda Lee, Brennan Leigh, Paul Leim, Daniel Levetin, #LoveWinsRt91, Steve Lukather (Toto), Maren Morris, Michael McDonald, Monarch PR, Willie Nelson, Dawn Nepp, Tina Parol, Pilgrimadge Festival, Pinnacle Financial Partners, Luke Powers, Margo Price, John Prine, Mebane Pruitt, Reba McEntire, Red Light Management, Rebecca Rego, Thomas Rhett, Michael W. Rhodes, Shel, Granger Smith, Steuart Smith (The Eagles), John David Souther, Chris & Morgane Stapleton, Marty Stuart, Keith Urban, The Vagabonds, Jon Vezner, The War & Treaty, Warner Chappell Music, Steve Wariner, Gene Watson, Emily West, Lanny West, John Paul White, Kris Wiatr/Wiatr & Associates, Alex Wightman, Jay Williams, Paul Worley, Chely Wright, Yazoo Brewery, Young Heirlooms…and more daily

How can you participate?
This is the best part. You do not have to add a show or do anything you are not already doing. You can give now (choose one 2018 show), join the collective of artists and business who have pledged to give a portion of their proceeds to Heal The Music on October 19, 2018, and make a difference in the lives of many. Every $10 donation = $300 in healthcare resources.
NOTE: A Member of the MHA staff will contact you directly to get more information.