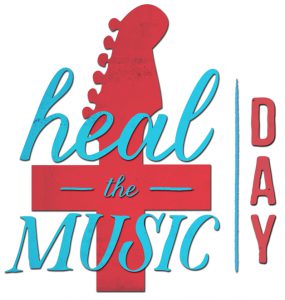 What is Heal the Music Day?
Heal The Music Day is an effort to raise awareness and support for the more than 56,000 Nashvillians who make a living in the music industry, 76% of whom are self-employed or part of small business without access to group health benefits – including songwriters, producers, audio engineers, musicians, recording artists, publishers and more benefitting Music Health Alliance.
Who Has Already Committed?
In 2017, a multitude of performing Artists and local businesses committed to donate a percentage of their revenues during the year to support their fellow musicians and peers in the industry in times of medical crisis including Pat Alger, Gary Allan, Tony Arata, BandTwango, The Basement, Basement East, Dierks Bentley, Matraca Berg, Better Than Ezra, T Bone Burnett, Lee Brice, Sam Bush, Camel Express Car Wash, Shawn Camp, Corner Music, Rodney Crowell, Rosanne Cash, Jerry Douglas, Dualtone Records, Ronnie Dunn, Steve Earle, Earls of Leicester, Ernie Ball Strings/Music Man Guitars, Farm Bureau, Rory Feek, Peter Frampton, Mary Gauthier, Vince Gill, Heather Grae, Grimey's, Emmylou Harris, Rachel Hester, Dan Hochhalter, Miranda Lambert, Brice Long, Mitch Malloy, Kathy Mattea, Nashville Musicians Union, New Frontier Touring, NSAI, John Prine, RGK Entertainment, Chris & Morgane Stapleton, Marty Stuart, Glen Templeton, Trace Recording Studio, Keith Urban, Jon Vezner, Warner Chappell Music, Gene Watson, Wiatr & Associates and XAct Tone.

How can you participate?
This is the best part. You do not have to do anything you are not already doing. You can give now, join the collective of artists and business who have pledged to give a portion of their proceeds to Heal The Music on October 19, 2018. Every $10 donation = $300 in healthcare resources.
NOTE: A Member of the MHA staff will contact you directly to get more information.
More Information
Watch the Video