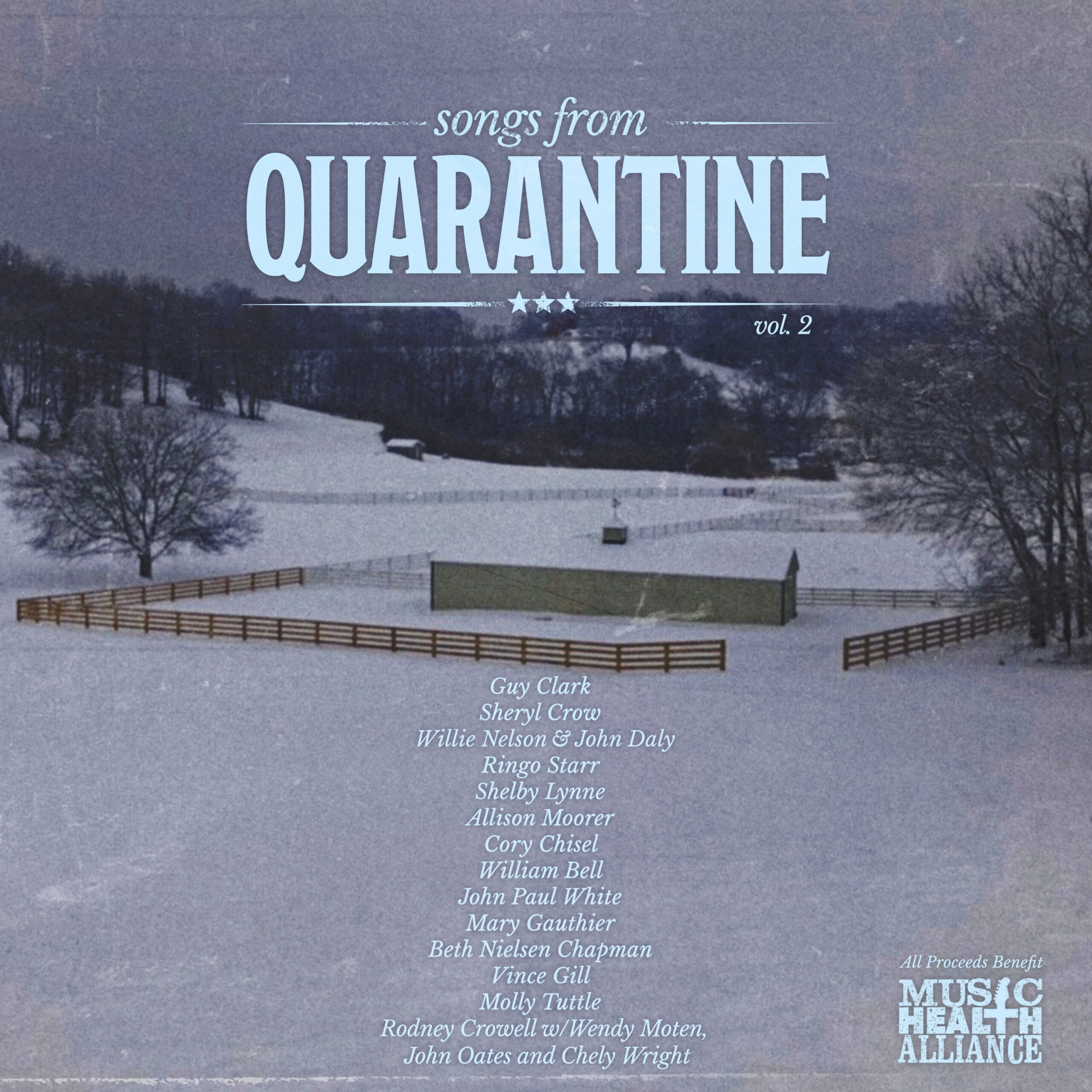 AVAILABLE NOW FOR ONLY TWO WEEKS:
Rodney Crowell and More All-Star Friends Return for Release of
Songs From Quarantine Vol. 2
Benefitting Music Health Alliance
14-song Compilation of Rarities Available for a Limited Time Features
William Bell, Beth Nielsen Chapman, Cory Chisel, Guy Clark, Sheryl Crow, Willie Nelson & John Daly, Mary Gauthier, Vince Gill, Shelby Lynne, Allison Moorer, Ringo Starr, Molly Tuttle, John Paul White and Rodney Crowell with Wendy Moten, John Oates and Chely Wright
NASHVILLE, Tenn. — Grammy-winning artist and long-time Music Health Alliance supporter, Rodney Crowell, has once again enlisted a number of his all-star friends, including William Bell, Beth Nielsen Chapman, Cory Chisel, Guy Clark, Sheryl Crow, Willie Nelson & John Daly, Mary Gauthier, Vince Gill, Shelby Lynne, Allison Moorer, Ringo Starr, Molly Tuttle, and John Paul White, plus Crowell will be joined by Wendy Moten, John Oates and Chely Wright for Songs From Quarantine Vol. 2, a digital compilation of rarities available for only two weeks exclusively on Bandcamp at https://smarturl.it/SFQ2.
This unique collection features fan-favorite songs in their raw form, performed by the artists who wrote and/or recorded them. Proceeds from this star-studded, limited edition 14-song download will again benefit the work of non-profit Music Health Alliance (MHA) and its continued work to provide free healthcare advocacy and support to the music community nationwide, including critical mental health and COVID-19 resources in addition to access to healthcare, medicines, diagnostic tests and more.
Crowell, an MHA board member, said: "Songs From Quarantine Volume 1 was a sweet success and we have equally high hopes for Volume 2. Once again all proceeds go to the not-for-profit Music Health Alliance, whose ever-ready staff continues to serve our nationwide music community's health related needs."
Available for 2 WEEKS ONLY exclusively via Bandcamp, Rodney Crowell and Friends' Songs From Quarantine Vol. 2 features:
1. Guy Clark – "Step Inside This House"
2. Sheryl Crow – "Home"
3. Willie Nelson & John Daly – "WHISKEY AND WATER"
4. Ringo Starr – "See You Later Alligator"
5. Shelby Lynne – "Is There Any Love Left"
6. Allison Moorer – "St. Jude Lives in the Garden Now"
7. Cory Chisel – "Wicked Game"
8. William Bell – "Check Out My Karma"
9. John Paul White – "Until I Get My Feet Back On The Ground"
10. Mary Gauthier – "About Time"
11. Beth Nielsen Chapman – "That's When I Find You"
12. Vince Gill – "Old Texas Moon"
13. Molly Tuttle – "Tsunami"
14. Rodney Crowell w/Wendy Moten, John Oates and Chely Wright – "Heavenly Day"
Download and listen to Songs From Quarantine Vol. 2 at https://smarturl.it/SFQ2.
About Music Health Alliance: Based in Nashville, MHA has provided free healthcare advocacy and support to more than 15,000 music industry members across 48 states in the non-profit's first eight years – songwriters, musicians, performers, producers, engineers, venue operators, artist managers, agents, publishers, business managers, and more – by providing access to medicine, mental health resources, COVID-19 relief, diagnostic tests, lifesaving transplants, end of life care and many other necessary services, saving more than $60,000,000 in healthcare costs for the nationwide music community in less than a decade. Entirely funded through grants and individual and corporate donations, financial support from the music community is critical to continue MHA's advocacy and free services. For every $1 donation, MHA is able to provide $30 in life-saving healthcare resources to Heal The Music.
In response to the pandemic, Music Health Alliance's COVID-19 Relief Plan was created to provide direct support for the immediate needs of music industry professionals and their families during this public health crisis through relief grants, simplified solutions and a comprehensive database of resources. MHA fights so those in our industry never have to feel alone in a health crisis and removes obstacles so patients can receive lifesaving care. Its services are free to any person who has worked in the music industry for three or more years or who has credited contributions to 4 commercially released recordings or videos. Spouses, partners, and children of qualifying individuals may also receive access to the non-profit's services from birth to end of life.
For more information, please visit www.musichealthalliance.com.
# # #
For Music Health Alliance, contacts:
Joseph Conner, Essential Broadcast Media, joseph@ebmediapr.com
Cindy Hunt, Monarch Publicity, Cindy.Hunt@MonarchPublicity.com
For Rodney Crowell, contact:
Lisa Jenkins, Vector Management, ljenkins@vectormgmt.com