Below The Belt Film Comes to Nashville
January 25 @ 7:30 pm - 9:00 pm
$12.50
A groundbreaking film examining the challenges people with endometriosis are facing. There is no known cure for this disease and often patients undergo several surgeries in hope of some relief.
In the personal & inspiring stories of four patients urgently searching for answers to mysterious symptoms, Below the Belt exposes widespread problems in our healthcare systems.
Through the lens of endometriosis, a disease that affects 1 in 9 women, the film shows how women are often dismissed, discounted & disbelieved. From societal taboos and gender bias to misinformed doctors and profit-driven healthcare, the film reveals how millions are effectively silenced and how, by fighting back, they can improve healthcare for everyone.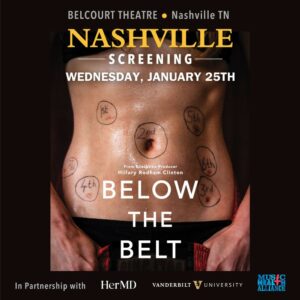 Tickets can only be purchased from Nashville Advance Screening in Partnership with HerMD, Vanderbilt and MHA — Below the Belt
-->