For Immediate Release
Thursday, Dec. 1, 2022
 MORRIS HIGHAM'S "SONGS FOR A CAUSE"
SONGWRITER SERIES RETURNS
Last Night's Performances by Matt Jenkins, Derek George, Will Bundy and Johnny Dailey Benefit Music Health Alliance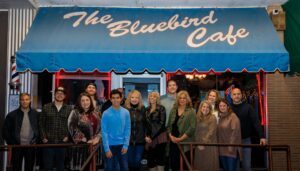 Pictured L to R: Morris Higham's Kyle Quigley, Songwriter Johnny Dailey, MHA's Tatum Allsep, Songwriter Will Bundy, MHA's Jake Shamberg, Songwriter Derek George (hidden), CNB's Diane Pearson, NSAI's Erika Wollam Nichols, Songwriter Matt Jenkins, MHA's Carla Denham, CNB's Mandy Morrison, Yvette Gregory & Kristy Sargent and Morris Higham's Robert Filhart | Photo Credit: Eric Ahlgrim
NASHVILLE, Tenn. – Morris Higham's songwriter series "Songs for a Cause" returned last night, Nov. 30, to a sold-out house at Nashville's historic Bluebird Cafe. The evening of song featured performances from hitmakers Matt Jenkins, Derek George, Will Bundy and Johnny Dailey. $2500 was raised with proceeds benefitting Music Health Alliance (MHA). With $1 being equivalent to $30 in healthcare resources for the nonprofit, the night generated approximately $75,000 in impact for MHA.
Once again sponsored by Morris Higham and City National Bank, the return of the series follows five prior "Songs for a Cause" events, including a stop at Joe's Pub in New York. Collectively the songwriter series has raised over $10,000 for various industry charities including CMA Foundation, MusicCares, ACM Lifting Lives, The Country Music Hall of Fame and Museum, and the Phran Galante Fund for Lung Cancer Research.
"We are incredibly grateful to Morris Higham, City National Bank and The Bluebird Cafe for creating this special evening of music to benefit Music Health Alliance," shares Tatum Allsep, Founder and CEO of MHA. "We are so happy this series is back and grateful for their support as we heal the music."
Morris Higham Management will continue the "Songs for a Cause" series in 2023.
###
About Music Health Alliance
Founded in 2013 and based in Nashville, Music Health Alliance (MHA) has provided free healthcare advocacy and lifesaving support and resources to more than 18,000 music industry members across 49 states in the non-profit's first nine years. MHA has supported songwriters, musicians, performers, producers, engineers, venue operators, artist managers, agents, publishers, business managers, and more by providing access to medicine, mental health resources, COVID-19 relief, diagnostic tests, lifesaving transplants, end of life care, and many other necessary services, saving more than $85,000,000 in healthcare costs for the nationwide music community in less than a decade. Entirely funded through grants and individual and corporate donations, financial support from the music community is critical to continue MHA's advocacy and free services. For every $1 donation, MHA is able to provide $30 in life-saving healthcare resources to Heal The Music. MHA fights so those in our industry never have to feel alone in a health crisis and removes obstacles so patients can receive lifesaving care. All MHA services are free to any person who has worked in the music industry for three or more years or who has credited contributions to four commercially released recordings or videos. Spouses, partners, and children of qualifying individuals may also receive access to the non-profit's services from birth to end of life. More info at www.musichealthalliance.com.
For Music Health Alliance, contact:
Joseph Conner, Essential Broadcast Media, joseph@ebmediapr.com
Cindy Hunt, Monarch Publicity, cindy.hunt@monarchpublicity.com  
Carla Denham, Music Health Alliance, carla@musichealthalliance.com