Nashville, TN – May 22, 2019 – During the Nashville Business Journal's 2019 Health Care Awards, held earlier this month, Music Health Alliance Founder and CEO Tatum Allsep was honored as a Health Care Leader One To Watch. Music Health Alliance was the only small non-profit honored in the elite list of 35 that included Dr. Tommy Frist, Jr. – Co-founder & former CEO of HCA Healthcare Inc., Dr. Jeff Balser – President & CEO of Vanderbilt University Medical Center, Dr. C. Wright Pinson – Deputy CEO and Chief of Vanderbilt University Medical Center, Dr. James Hildreth – President & CEO of Meharry Medical College, Milton Johnson – Chairman of HCA Healthcare, Fahad Tahir – President & CEO of Saint Thomas West & Mid-town Hospitals, A.J. Kazimi – Founder, Chairman & CEO of Cumberland Pharmaceuticals and Tim Adams – Pres & CEO of Saint Thomas Health.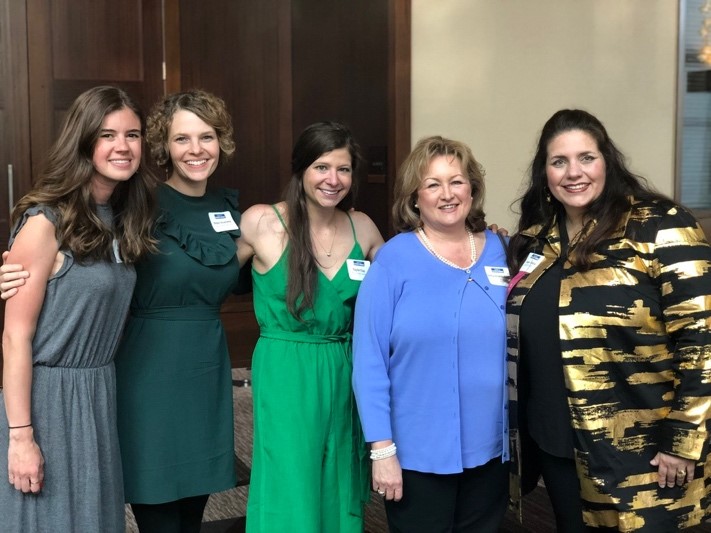 Left to right: Music Health Alliance's Caitlin Kennedy, Nikki Viverette, Taylor Clay, Shelia Shipley Biddy, Tatum Allsep
"It is an honor and a testament to the hard work and commitment of our Music Health Alliance team to be included in this group of extraordinary innovators and leaders in healthcare," shared Allsep.
The evening celebrated Nashville's top health care industry leaders, innovators and strategists whose work continues to reinforce Nashville as the health care capital of the nation.
Music Health Alliance provides free healthcare support and advocacy to songwriters, artists, musicians and music industry professionals at every stage of their career. Thanks to the direct efforts of MHA, members of the music community across the country have gained access to lifesaving transplants, medicine, mental health resources, end of life care and many other medically necessary services. In addition to the priceless advocacy work undertaken by the 8-person team, individual and corporate donations allow MHA to underwrite services including dental care and mammograms for uninsured clients and grants for mental health care via The Jack Pot, named for Cowboy Jack Clement. In addition, the Ben Eyestone Fund, founded in partnership with the late drummer's family and St. Thomas Health, has saved 18 lives in 2018 by providing access to diagnostic testing and follow-up treatment. Another 13 clients with non-life-threatening medical needs have received exams, diagnoses and treatment, all covered by the Ben Eyestone Fund resulting in zero medical debt. Since 2013, Music Health Alliance has saved over $40 Million dollars in lifesaving healthcare and insurance premiums and served over 9,700 people in the music community. Learn more at musichealthalliance.com.
# # #
Media Contacts for Music Health Alliance:
Cindy Hunt / Heather Conley
Monarch Publicity
615-429-2203 / 615-202-5070
cindy.hunt@monarchpublicity.com / heather.conley@monarchpublicity.com