Music journalist Robert K. Oermann was honored Monday, October 29 at the third annual Music Row Storytellers event, benefiting Music Health Alliance.
Oermann reminisced about his career in a room full of friends and colleagues; several – including Grand Ole Opry stars Jeannie Seely and Larry Gatlin – joined him to share stories of his industry contributions. Video messages and tributes from such wide-ranging talent as Dolly Parton, Charlie Daniels, K.T. Oslin, Pam Tillis, Trisha Yearwood and Chris Young further showcased the scope and impact of his work.
The event honors people who stand the test of time in telling stories that make the music industry so fascinating – the journalists, interviewers, reporters, show hosts and others who've lived, breathed and witnessed these moments alongside the music- and decision-makers of Music Row.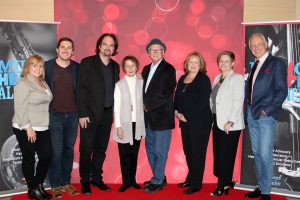 (L-R) Denise Nichols, event co-chair and Principal, The Primacy Firm / John Zarling, event co-chair and EVP/Marketing & New Business, Sony Music Nashville / Sherod Robertson, Publisher-Owner, MusicRow Magazine / Robert K. Oermann's wife, Mary Bufwack / Music Row Storytellers honoree Robert K. Oermann / Shelia Shipley Biddy, COO, Music Health Alliance / Heather McBee, event co-chair and VP/Operations, Nashville Entrepreneur Center / Maurice Miner, event co-chair and President, Maurice Miner Media & Marketing
#  #  #
 ABOUT ROBERT K. OERMANN:
Now the unofficial historian of Nashville's musical heritage, Robert K. Oermann's love of music can be traced back to his Pittsburgh childhood, when he clerked in his grandmother's record store. He moved to Nashville in 1978 for a job with the Country Music Hall of Fame & Museum. His freelance writing put his byline into such publications as Billboard, The Hollywood Reporter, Esquire, TV Guide and – in the early 1980s – the pages of an emerging newspaper called USA Today (as its first country-music reporter and critic). A dozen years with the daily Tennessean made him a Music City staple, as he evolved to become the community's go-to journalistic source, critic, commentator and tastemaker. His entertaining singles reviews — an anchor of Music Row magazine since its inception in 1981 — have made him a music-industry must-read.
As the author of eight books, the host of the hit podcast Children of Song and a creative force in film and TV documentaries, he has chronicled America's musical culture for decades, sometimes in collaboration with his wife, Mary A. Bufwack. Liner notes, artist bios and interviews created by Robert K. have breathed life into the careers of innumerable artists, musicians, songwriters and producers. He has served and continues to lend his expertise and perspective to numerous organizations – The Recording Academy, the CMA, the Nashville Public Library, Leadership Music and the Nashville Songwriters Hall of Fame among them. He is also an ombudsman for Music City as a convention speaker, a mentor to students and a frequently televised commentator. Simply put, Robert K. Oermann is a Music Row "Storyteller."
ABOUT MUSIC HEALTH ALLIANCE:
Nashville-based non-profit Music Health Alliance, which fights so those in our industry never have to feel alone in a health crisis. The eight-person team at Music Health Alliance removes obstacles so patients can receive lifesaving care. Thanks to the direct efforts of Music Health Alliance, more than 8,400 members of the music community across 38 states and all genres of music have gained access to lifesaving heart, lung, kidney and liver transplants, medications to treat Parkinson's, end of life care and many other crucial services. Since 2013, Music Health Alliance has saved members of the music community over $33-million dollars in healthcare costs including insurance premium savings, medical bill reductions and discounted medications. Its services are free to any person who has worked in the music industry for two or more years, or who has credited contributions to 4 commercially released recordings or videos. Spouses, partners, and children of qualifying individuals may also receive access to the non-profit's services from birth to end of life.
PRESS CONTACTS:
For Music Row Storytellers Honoring Robert K. Oermann:
Maurice Miner, Maurice Miner Media & Marketing
615-715-2734
For Music Health Alliance:
Cindy Hunt, Monarch Publicity
Cindy.Hunt@MonarchPublicity.com
615-429-2203